The HeART of Adaptability: Polyvagal Informed Practice for Mental Health Clinicians
Thursday, February 25, 2021
,
8:00 PM
-
9:30 PM EDT
Category: Webinar
---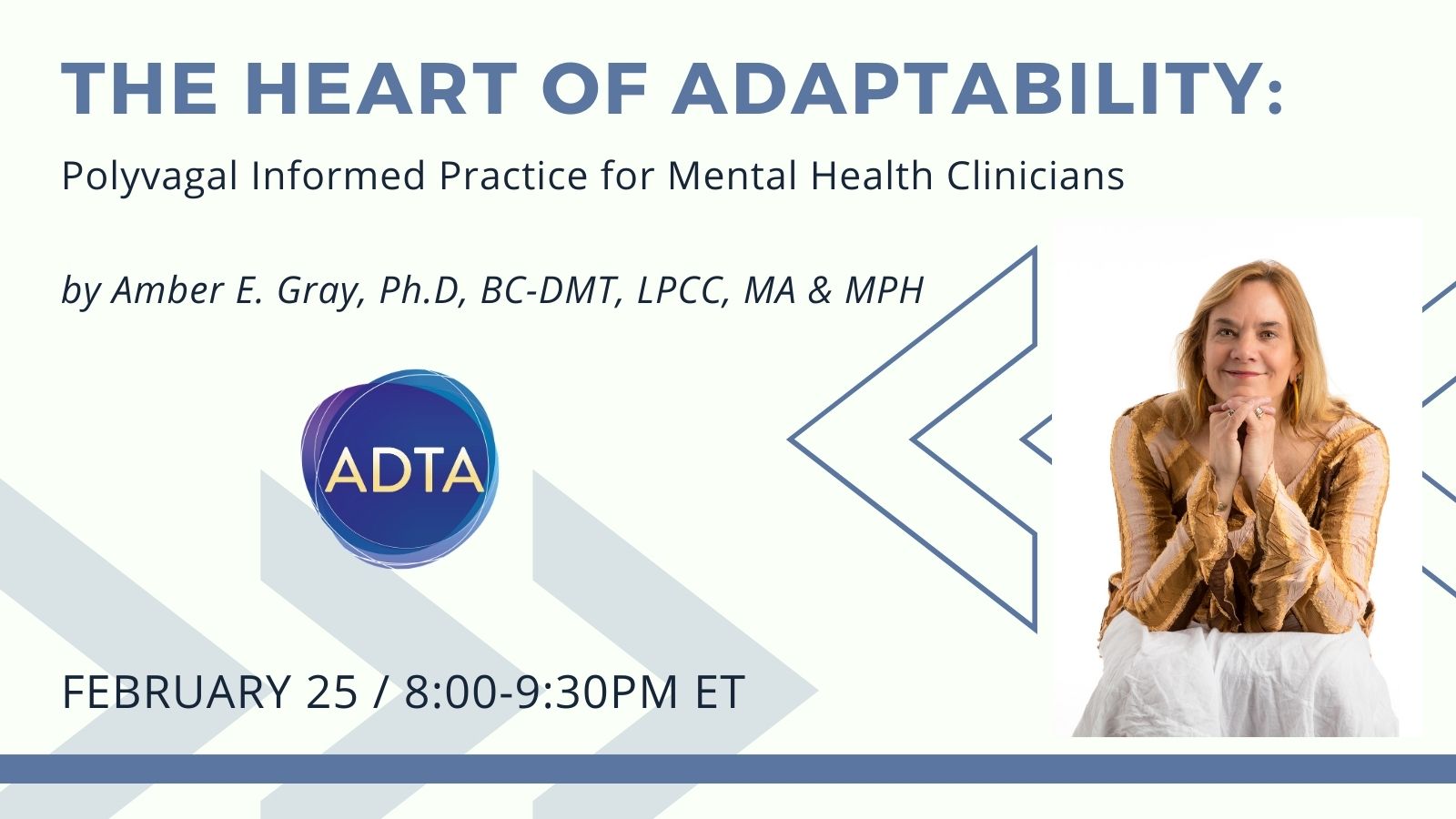 Thursday, February 25
8:00 – 9:30 p.m. ET
 1.5 CEs (ADTA, NBCC, LCAT)
Member $39
Non-Member $49
Student $15
The times we are living in call for brave hearts. We are called to ground into our courage and our vulnerability. Those of us who steward the restorative process for others are exposed to stories, histories, and emotions that impact our own well-being, especially when we are experiencing our own loss and pain. In tending to others, our own hearts encounter suffering and fear.
Recent neuroscientific research suggests that human beings are soft-wired for empathy, which connects us, and increases our risk for vicarious trauma and burn-out. Research supports contemplative practices and physical activity as fundamental to well-being. The body, and movement, provide the most direct access to change that promotes well-being. 
This webinar will provide a brief theoretical overview of the presenter's Polyvagal-informed Dance/Movement Therapy, a scientifically endorsed, compassion and rights-based Dance/Movement Therapy approach accessible to all clinicians and practitioners who work in service of others healing, to source the wisdom of their own body's restorative capacities. Several breath, movement and dance therapy-based approaches to cultivate self-regulation and support relative safety, stability and co-regulation for our clients, will offer moving opportunities to cultivate self-compassion.
Learning Objectives
1. Participants will describe the core theoretical principles of Polyvagal-informed dance/movement therapy.
2. Participants will define the "trilogy of human response" and understand its relevance to treating trauma.
3.Participants will learn at least 3 Polyvagal-informed dance/movement therapy practices to cultivate self-regulation and self-compassion.
4. Participants will understand the role body and breath play in co-regulation with clients.  
Registration for this live webinar is now closed. This webinar will be made available for on-demand purchase in 14-21 days in the ADTA CE Center. Thank you for your interest.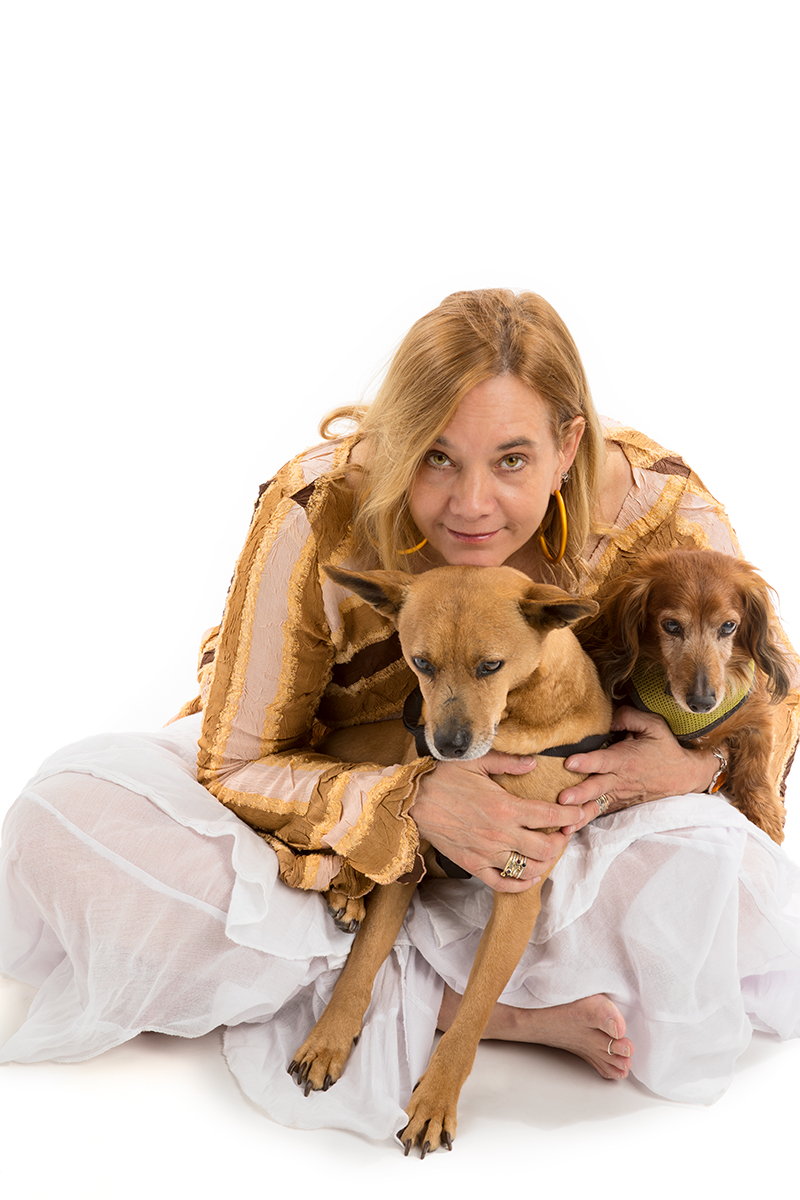 Dr. Amber Elizabeth Lynn Gray, Ph.D, BC-DMT, LPCC, MA & MPH
is the Executive Director of Restorative Resources LLC, The Kint Institute, and her own planetary rights non-profit, Trauma Resources International. She is an award-winning dance/movement therapist, a human rights psychotherapist, and an authorized Continuum teacher. Amber has worked for 24 years with people who have survived human rights abuses, war, and torture. She originated Restorative Movement Psychotherapy, a framework for dance, movement, mindfulness and creative arts therapies with refugees and survivors of torture, and Polyvagal-informed Dance/Movement and Somatic Therapies for trauma, based on a deep immersion into Polyvagal Theory. Amber provides training and consultation nationally and internationally on restorative treatment for survivors of relational, social, collective and ancestral trauma. Her expertise is the integration of creative arts and body-based psychotherapy into "mainstream", multi-cultural, clinical, psychotherapeutic and healing practices, often in low resource contexts. She is a regular conference presenter and keynote speaker and has authored many peer-reviewed publications on movement therapies and trauma. She regularly leads eco-somatic, "wild-zeness" retreats for survivors of trauma.
The American Dance Therapy Association has been approved by NBCC as an Approved Continuing Education Provider, ACEP No. 5739. Programs that do not qualify for NBCC credit are clearly identified. The American Dance Therapy Association is solely responsible for all aspects of the programs.
The American Dance Therapy Association is recognized by the New York State Education Department's State Board for Mental Health Practitioners as an approved provider of continuing education for Licensed Creative Arts Therapists #CAT-0035.
---