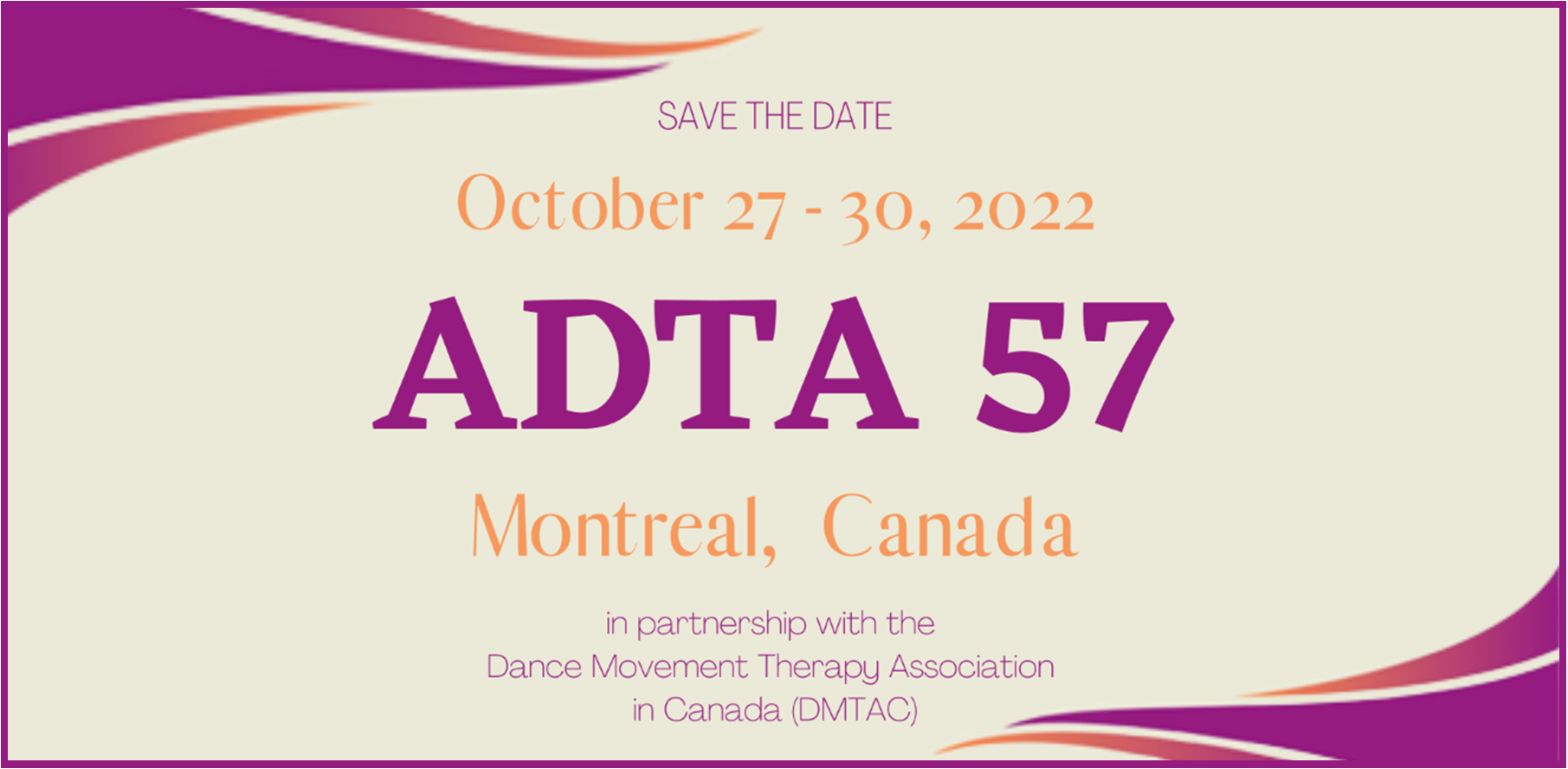 Instructions for Submitting a Proposal for the 2022 ADTA 57th National Conference 
Thursday, October 27th - Sunday, October 30th, 2022
PROPOSAL DEADLINE EXTENDED: Friday, March 4th, 2022, at midnight (EST)
Renewed Connections: Dance/Movement Therapy Fostering Community Healing
Honoring the healing impact that our dance/movement therapy community offers around the globe, we are pleased to support these efforts and come together to share our foci, techniques, challenges, and successes with each other and the greater therapeutic community. After two years of strictly virtual connection, let us expand our reach as we reconnect internationally in-person to share our unique wisdoms and contributions, dedicated to fostering healing through dance/movement therapy across communities.  
Your proposals are welcome following the criteria below:  
Submitting a proposal 
Either a 75 minute or 3-hour seminar on the topic/population of your choice.
Either a 75 minute or 3-hour seminar on a topic/population related to the conference theme of embracing inclusion of DMT as it is practiced in different countries.
Either a 75 minute or 3-hour seminar on a topic of diversity, equity, and inclusion as applied to your DMT clinical, education, and consultation/supervision practice
Important Reminders 
1. Credentials of Presenter(s): 
The ADTA provides three different types of continuing education for the annual conference.* 
A.  ADTA continuing education (CE) is provided for all conference seminars and requires atleast one main presenter of each seminar to be an ADTA member or Professional Member of the DMTAC. (exceptions are made only by a vote of the ADTA Board of Director's Executive Committee). 
B.  Seminars may also qualify for the National Board of Certified Counselors (NBCC) CE hours. The NBCC has specific requirements for the credentials of presenters as well as the content area. ADTA is NBCC provider #5739. 
C.  Seminars may also qualify for New York LCATs. ADTA Creative Arts Therapy continuing education Provider Number #CAT-0035} is authorized by the New York State Board for Mental Health Practitioners to provide continuing education to LCATs in New York State.
* Experience of past DMTAC members attending ADTA conferences has been that national and provincial professional associations where DMTs are members accept CEs from ADTA conferences. We are working with Canadian Provincial CE organizations to ensure they will accept CEs from the conference. Confirmation of this will be indicated on the conference registration form.
2. New/Innovative and/or Advanced Content: To address past conference feedback re- questing greater diversity in seminar topics, we are evaluating proposals for new/innovative and/or advanced content. Specifically, if a presenter of a proposal has presented on the topic at the ADTA conference in the last 3 years, we request further information on how the current proposal includes new, innovative or more advanced content than presented before .
3.Physical Touch Feedback: To address past conference feedback we are asking presenters to indicate in their seminar description whether physical touch will be included in the experiential part of your presentation. The ADTA Code of Ethics has a section on ethical touch. If you are including touch in your seminar  experiential, please review section 1.5 of the Code.
Selection Process and Criteria

  
All proposals received by the deadline and meet the minimum proposal requirements will be reviewed by the National Review Panel (NRP). 
All identifying information is removed from proposals before sending them to the NRP, thus ensuring a de-identified process. If a reviewer can identify a specific proposal presented by the information provided, the reviewer is asked to decline from reviewing and scoring the proposal.  
Proposals are reviewed and scored in 5 categories:  
•
Suitability:
o
How well does the proposal relate to the conference theme? 
o
Is the seminar relevant to the theory, research or practice of DMT? 
o Is the seminar related to diversity, equity and inclusion as applied to DMT practice, education, consultation/supervision?  
o Is the proposal well written? (grammar, clarity of thought and language, etc.) o Is the proposal written by someone for whom English is their second language? o Does it adhere to APA style conventions? 
•
Content:
o
Is there internal consistency between the title, learning objectives and description of  the seminar?  
o
Are the learning objectives clear and realistic given a 75 minute or 3-hour seminar  time frame and the seminar description?  
o Does the description reflect content that is appropriate for attendees working at the  master's level or above?  
•
Innovation: 
o
To what extent is the seminar contributing new knowledge or perspectives to the  field?  
o
Have the presenter(s) presented this topic at an ADTA conference in the past 3  years?
o If "yes", how well did they articulate how this proposal will offer new knowledge or  unique/deeper perspectives?
• Diversity: 
o Does the proposal suggest the inclusion of attention to diversity and/or disability access issues, as they  would relate to the stated topic of the particular seminar?  
Overall scores are calculated, and the proposals are ranked and accepted according to rank  order and the number of seminar slots available for the conference. Additionally, we will be confirming that a minimum of 25% of the chosen seminars have at least one presenter new to presenting at an ADTA conference.  
If you would like support for your writing skills before submitting your proposal you can contact  one of the people below. They are able to help a limited number of people with editing (not content) on a first come first serve basis:  
Susan Kierr: [email protected]  
Proposals can be submitted in English or French. 
The proposal application is through the ADTA Website. Members must sign into their account to access the form. New Users must provide an email address and a password to establish a non-member account and submit. 
Online Proposal Form Instructions

 
The following are the fields you will need to complete in the online proposal submission process.  Please be prepared to include all of the information before you begin your online application. At this time your application cannot be saved in order to return at a later time. Please make sure you use the list below to gather all information requested, prior to filling out the form. Required*
Primary Presenter Information
Primary Contact Presenter First Name*  

Primary Contact Presenter Last Name *  

Email* 

Street Address*  

Country*  

Preferred Telephone Number* 

Are you an ADTA member or Professional member? Please note: all seminars  must include a current ADTA member, with exceptions to this made only by a vote of the Board of Directors' Executive Committee.*

Primary Contact Presenter Bio: *

(150-word limit)

Primary Contact Presenter CV: * (8000-word limit)

Primary Contact Headshot* 
Disclaimers 
COVID - 19 Information - At the time of this call for proposals, we are planning for an in-person event. We are carefully watching CDC COVID-19 guidelines. Some of the workshops, as well as participant numbers for workshops, may change as a result of the current guidelines. ADTA recommends that conference attendees follow the CDC recommendations at the time of the conference. If you choose to attend the in-person conference, ADTA recommends that you observe the CDC recommendations for YOU and follow all guidelines set in place by the Canadian Government. With the conference being international, proof of full vaccination is required.
As guidelines for travel are constantly changing, we are requiring everyone to check this website regularly-https://travel.gc.ca/travel-covid.
Please do not contact the office regarding Canada's requirements, We, the ADTA, are not in any position to make exemptions to Covid-19 guidelines or rules. We  have no control over the rules that Canada sets, we cannot answer questions on their rules, and we cannot make any exemptions. 
I have read all of the COVID-19 information above. If my proposal is accepted, I agree to follow all COVID recommendations and requirements put forth by the ADTA and Canada. 
If my proposal is accepted, I confirm that  AT LEAST ONE (1) PRESENTER in my group has the education, experience and/or training to present on the content area(s) of my proposed presentation.
If my proposal is accepted, I will reiterate my three (3) learning objectives in my presentation. 

If my proposal is accepted, I will adhere to the July 1st, 2022 deadline of submitting my 1500 or more word description including PowerPoint slides which will be used in my presentation for the Conference Proceedings. *

If my proposal is accepted, I will submit a $35 presentation reservation deposit and this deposit will be credited towards the conference fee upon registration. Co-presenter(s) will submit the $35 deposit also.
To maintain safety and respect personal boundaries, we are asking presenters to indicate whether physical touch will be included in the experiential part of your presentation. The ADTA Code of Ethics has a section on ethical touch. If you are including touch in your seminar experiential, please review section 1.5 of the Code of Ethics.  Are you including touch?
If my proposal is accepted, I agree to consider ways to make my presentation accessible and sensitive to differing abilities/disabilities including members and participants with sensory, mental, emotional, cognitive, physical, and/or other differing abilities. 
MDC/Social Justice movement: If my proposal is accepted, I agree to work towards zero harm towards any person, perspective, group or population in the presentation creation, facilitation, and discussion, and keeping the presentation space as safe (in language, judgment, perspective) as possible for all participants and presenters. **The ADTA is working towards this, and will offer support whenever, and however possible.
Co-Presenter Information 
Conference Presentation Requirements 
In order to ensure our conference programming meets requirements set out for continuing education standards, and meet our member's CEU needs, we must determine that presenters have the experience and  credentials to present on the topics they are proposing. The following questions below  and on the next page will ask you specifically about you and your co-presenter(s)' qualifications and topics.
If yes, please explain what new information, advanced learning, or fresh perspective you will  be bringing to the topic?
Title of Presentation  (15-word limit)*

Abbreviated Title (5 word Limit)*
Space Requirements *

Theater style seating with head table

Empty room

Chair in a circle

Movement space with perimeter seating
Target Audience

Entry level/student

Mid-level 

Advanced level
need to supply my own computer and speakers. *