Marian Chace Biography
Committed to dignity and compassion for those in state institutions.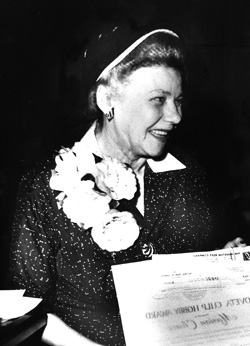 Marian Chace (31 Oct. 1896 -19 Jul. 1970), dancer and dance therapist, was born in Providence, Rhode Island, the daughter of Daniel Chace, a journalist, and Harriet Edgaretta Northrop, a teacher and writer. One of four children, Ms. Chace was encouraged to attend Pembroke College in the fall of 1916. Dissatisfied, she moved with her family to the Washington, D.C. area and went to the Corcoran School of Art. After hurting her back in a diving accident, it was painful for her to paint or draw. Her physician suggested she take dance classes to strengthen her back. She was drawn to this other form of art and she focused all her attention on dance. This became her "natural means of communication." Now in her late twenties, she made the decision to attend the Denishawn School of Dance in New York City. She began her studies in the summer of 1923, greatly broadening her learning and developing a philosophy of movement.
The following year, on July 29th, 1924, Marian Chace married Lester Shafer, another Denishawn dancer. Soon after, they left for an opportunity to dance in vaudeville, where dancers were welcomed performers at that time. A year later, July 4, 1925, a daughter was born to the couple and they returned to teach and perform in the Washington D.C. area so that Ms. Chace's family could care for the child. They re-joined the Denishawn School in New York about 1927 until 1930, being part of the avant-garde artists of the period.
Ms. Chace and her husband returned to Washington once more to open a branch of the Denishawn School. It was a period of artistic growth. Many classes were taught, dances choreographed, and performances presented. Lavish costuming was part of their work for pageants and participation in social events such as the annual costume gala. The choreography began to be influenced by other leaders of the time such as Graham, Wigman and Kreutzberg.
Lester Shafer remained involved in the New York Denishawn performance group and eventually, for personal and financial reasons, left to go off on his own. The marriage dissolved in 1938. Marian Chace remained committed to continuing her dance company, but depression and lack of funds made it difficult. As she began teaching in institutions for children and adolescents, her work began to develop new directions. She wondered why it was that people came to study dance who had no intention of being performers. As she observed these individuals more closely, her classes began to shift to enable the movement to better meet their needs. The focus shifted to the person dancing rather than dance technique.
Her reputation as a special teacher spread so that soon pediatricians and psychiatrists were sending her their patients for classes. It was in 1942 that she was invited to work at St. Elizabeths Hospital in Washington, D.C., a federal psychiatric hospital, where psychological casualties of World War II were beginning to fill the wards. This was the period before the advent of psychotropic drugs and there was openness to new methods of treatment, particularly through group processes. It was there that "Dance for Communication" was first offered and was the start of what became a new mental health profession called dance/movement therapy. She was made the first full-time dance therapist in 1947.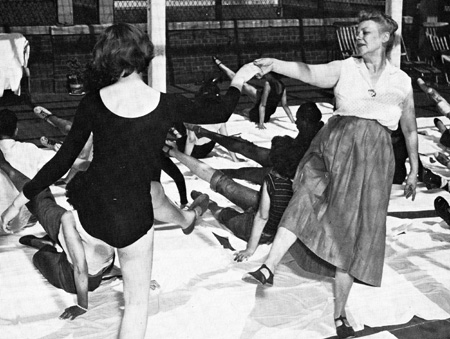 Her studies in psychodrama and at the Washington School of Psychiatry enabled her to meet Dr. Frieda Fromm-Reichmann, a leader in the work with schizophrenic patients at Chestnut Lodge, a private psychiatric hospital in Rockville, Maryland. In 1946, Marian Chace was invited to lecture at Chestnut Lodge and was immediately offered the opportunity to work there.
Ms. Chace continued to work in her studio, teaching, choreographing, and leading a dance company until she made the decision, early in the 1950s, to devote all her time to her new work. With her commitment now totally involved in dance therapy, Ms. Chace began to write articles, offer workshops, and teach at such places as the Turtle Bay Music School in New York City. She accepted interns and trained many people at St. Elizabeths Hospital. In addition to the dance therapy groups, she produced annual theatrical productions with the patients. One of these was about Dorothea Dix, an activist in mental health treatment, which was filmed and shown on television.
Her work was her life. Although she feared her work would be misunderstood, she eventually supported the development of the American Dance Therapy Association and was its first president in 1966-1968. The Marian Chace Memorial Fund was established as a tribute to her essential contributions. The Fund serves to enable scholarship and research in dance/movement therapy.
Ms. Chace continued to work at St. Elizabeths Hospital, using dance as a means of therapy and communication, until she was required by law to retire on Oct. 31, 1966. She continued her work full time at Chestnut Lodge until the day of her death at age 74. Marian Chace is a seminal figure in the development of the profession of dance/movement therapy. She was an original thinker who evolved a theory of clinical practice using basic dance to engage those who are severely disturbed.
She thought of herself first as a dancer and maintained that one needed to have the art form well integrated within oneself in order to then make use of it as a therapeutic modality. From her own experiences, she extrapolated those concepts and principles which are basic to facilitating therapeutic change. She understood the essence of the art form of dance and how it relates to the needs of human beings for communication and understanding. Her ability to observe these communications in movement led to responses that answered confusion and isolation.
Chace offered dignity and compassion in surroundings bereft of such. Her intuitive trust of the body and its expression in movement led to a way of thinking that evolved into structures that could be taught to others. She was a woman of conviction and courage and she unflinchingly shared her truths despite personal insecurities.
One of the important ideas that Chace evolved was that tensions and distortions of the body are reflections of traumatic experience. However, there is a relationship between change and readiness for change, and "only when he is ready for it will it become meaningful to him and effect a change in his body image…" She understood that movement was symbolic of the unconscious and by reflecting and building on the movement offered, the patient could begin to claim the expression as his own and explore new possibilities. She understood how to integrate the verbal and non-verbal in a way that flowed one to the other without awkward shifts. Her use of kinesthetic empathy was basic to the process.
These principles and structures have since been elaborated on by others and modified to meet different problems. However, her vision of dance as therapy and the concepts she evolved, remain core precepts which can be applied within any theoretical framework.
Composed by Sharon Chaiklin
Bibliography
Chace published articles in journals and magazines primarily in the 1950's. All her published and unpublished papers were collected and edited into a book by Harris Chaiklin entitled Marian Chace: Her Papers, and published by the American Dance Therapy Association in 1975.
This book is out of print and the Trustees of the Marian Chace Memorial Fund (1) of the American Dance Therapy Association published a revised and expanded version of the book which includes added biographical material and recent articles written by other dance/movement therapy practitioners which build upon her clinical concepts. All her papers, and articles about her from the previous volume, were preserved.
The title is Foundations of Dance/Movement Therapy: The Life and Work of Marian Chace (1993). Sandel. S, Chaiklin, S. and Lohn, A. (editors). THE BOOK IS AVAILABLE FOR SALE ONLINE. Click here to go to our publications area.
Her work is discussed in relation to the dance/movement therapy profession in Fran J. Levy's book entitled Dance Movement Therapy: A Healing Art (1988).
1 Now called the Marian Chace Foundation